Monday, April 25, 2005


2004 CIASTD Fall Education Conference
•November 11, 2004
•Rolls-Royce Training
Center
•CIASTD Member - $119
•Non- Member - $139
Student - $75
•Conference and one year Membership - $184
Click here for an exhibitor registration form in PDF format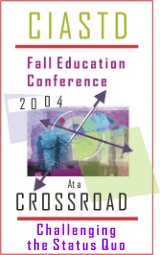 Thursday, November 11, 2004
Early Bird Extended until October 22!
Join us in November for the 2004 CIASTD Fall Education Conference!
Held once again at the Rolls-Royce Training Center, the CIASTD Fall Education Conference is the premiere training event of the year.
Date: Thursday, November 11, 2004
Location: UAW/Rolls-Royce Training Center
2001 South Tibbs, Indianapolis
Time: 7:30 a.m.-4:30 p.m.
Time

Topic

7:30-8:00 a.m.

Registration and continental breakfast

8:00-8:15 a.m.

Welcome/opening remarks

8:15-9:15 a.m.

One Glimpse of the Innovative Edges of Human Performance and Technological Change by Curtis J. Bonk Ph.D.

9:15-9:45 a.m.

Morning Break

9:45-11:15 a.m.

Morning Breakouts


Training for Competitive Advantage
Performance Consulting
Innovations in Performance Improvement
Roundtable Discussions
Creating a Tipping Point with Training
Leanne Batchelder, Bottom Line Performance, Inc.
It's All About Results:An Update from the 2004 ASTD HPI Summit
Marianne Whelchel, Delta Learning Group
R2D2 on the Blend: A Galaxy of Online Learning Style Ideas and Blended Learning Examples
Curtis J. Bonk, Ph.D., Indiana University
Herding Cats: The Road to Successful Interactions with SMEs
Ellen Pericak, Eli Lilly and Company
Demonstrating the Business Value of Performance Improvement Solution: Preparing your Organization by Linking an Evaluation Strategy with Performance Metrics
Claudia Lappin and Patricia Todd, Eli Lilly and Company
Blending E-learning with E-training Delivery
Pat Ralston, Duke Realty Corporation

11:14-12:45 p.m.

Lunch and Vendor Exhibits

12:45-2:45 p.m.

Afternoon Breakouts




Training for Competitive Advantage
Perfomance Consulting
Innovations in Performance Improvement

Optional Session
(Must Register Separately for this Session )

How Project Management Changed My Life: Project Management for Trainers
Lou Russell, Russell Martin & Associates
Want to Change the Perception of Your Value? Change Your Culture.
Duane Rohlfing, Cutting Edge Training & Development, Inc.
PI2 = Results (and Lessons Learned)
Becky Meiers, Eli Lilly and Company
Innovation
Co-opetition
Real -life, Real-time, Consulting by Cross-functional Teams
Form a team of 4-7 people or register as an individual and match your skills in human performance development with the performance challenge of an Indiana life-science company. The goal is to engage in innovative and collaborative brainstorming to analyze human performance problems and begin to identify solutions for life science companies.
Click Here to register for this session.

2:45-3:00 p.m.

Beverage/Cookie Break

3:00-3:40 p.m.

Growing Human Capital in Life Science Companies
presented by Ron Meeusen, Ph.D., and Joerg Schreiber, Ph.D., from BioCrossRoads; Wade Lange, Executive Director, Indiana Health Industry Forum

3:40-3:45 p.m.

7th Inning Stretch

3:45-4:15 p.m.

The Proverbial Cracker Jack: How to Get Out of the Box and Become the Prize by Dale Henry, Ph.D.

4:15-4:30 p.m.

Final prize give-aways/Conference closing
About our Speakers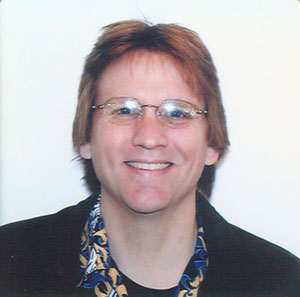 Curtis J. Bonk, Ph.D., CPA is Professor of Educational Psychology as well as Instructional Systems Technology at Indiana University. He is a core member of the Center for Research on Learning and Technology at IU and a Senior Research Fellow with the Advanced Distributed Learning Lab within the Department of Defense. He received the CyberStar Award from the Indiana Information Technology Association in 2002, the Most Outstanding Achievement by an Individual in Higher Education award from the U.S. Distance Learning Association in 2003. In addition, he received a State of Indiana award for Innovative Teaching in a Distance Education Program in 2003 and an alumni achievement award from the University of Wisconsin in 2004. Dr. Bonk is in high demand as a conference keynote speaker and workshop presenter. He is President and Founder of CourseShare and SurveyShare.
Dale Henry, Ph.D., is the founder and president of Your Best Unlimited, a Tennessee based training company. He speaks to and trains over 100,000 professionals and executives each year, for clients such as Marriott, Levi Strauss, AT&T, Maytag, GTE, Cellular One, FedEx, MCI and Xerox. In 1997 alone, he presented to over 30 of the Fortune 50. Dale has been featured on numerous television and radio talk shows around the world and has developed several best selling video and audio training programs. Dale has been honored with numerous business and educational awards and prides himself in being a master teacher. Although Dale believes in the importance of laughter - his presentations always deliver a strong message packed with useful tools. A native of East Tennessee and the foothills of the Smoky Mountains, he draws heavily on his storytelling background to hold the audience in the palm of his hand.